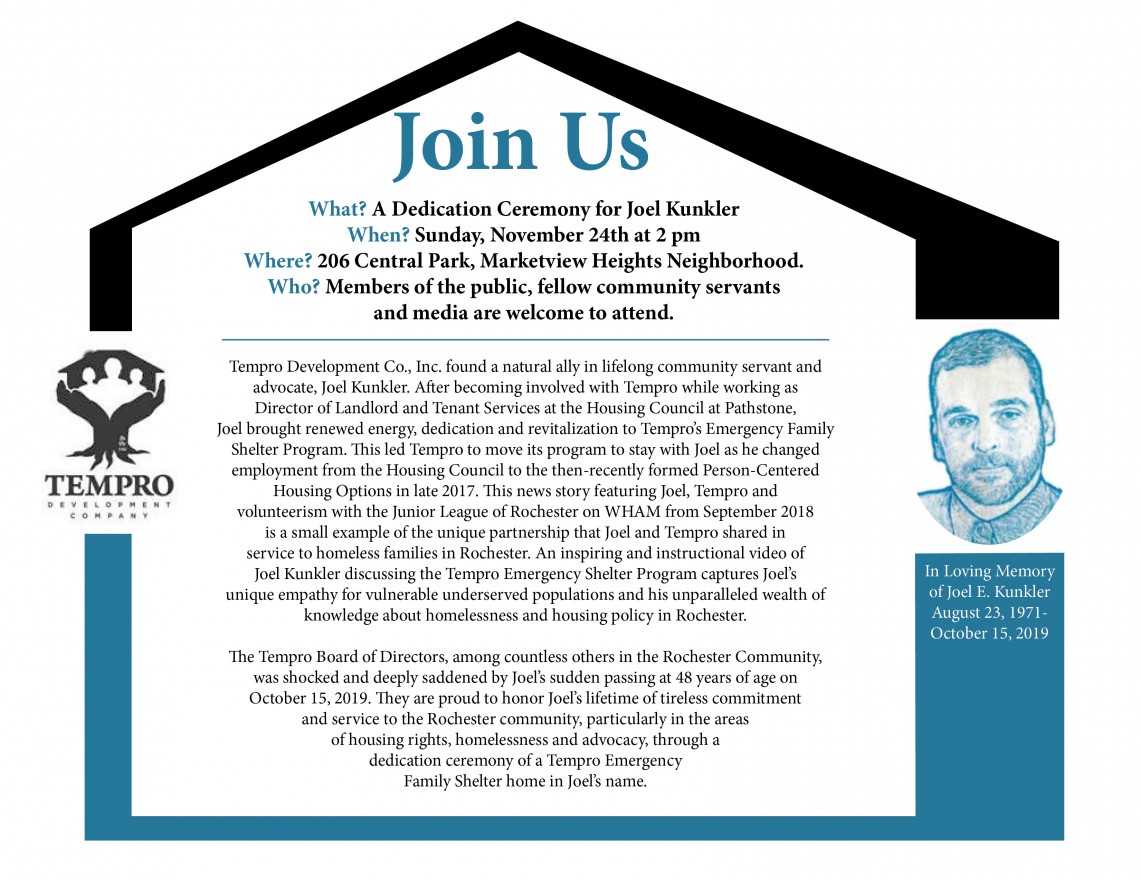 Please join Providence Housing at a dedication ceremony for Joel E. Kunkler that will take place on Sunday, November 24th at 2 pm at 206 Central Park in the Marketview Heights neighborhood. Members of the public, fellow community servants and media are welcome to attend.
Joel's Life of Commitment to the Rochester Community: Tempro found a natural ally in lifelong community servant and advocate, Joel Kunkler. After becoming involved with Tempro while working as Director of Landlord and Tenant Services at the Housing Council at Pathstone, Joel brought renewed energy, dedication and revitalization to Tempro's Emergency Family Shelter Program. This led Tempro to move its program to stay with Joel as he changed employment from the Housing Council to the then-recently formed Person-Centered Housing Options in late 2017. This news story featuring Joel, Tempro and volunteerism with the Junior League of Rochester on WHAM from September 2018 is a small example of the unique partnership that Joel and Tempro shared in service to homeless families in Rochester. An inspiring and instructional video of Joel Kunkler discussing the Tempro Emergency Shelter Program captures Joel's unique empathy for vulnerable underserved populations and his unparalleled wealth of knowledge about homelessness and housing policy in Rochester.
The Tempro Board of Directors, among countless others in the Rochester Community, was shocked and deeply saddened by Joel's sudden passing at 48 years of age on October 15, 2019. They are proud to honor Joel's lifetime of tireless commitment and service to the Rochester community, particularly in the areas of housing rights, homelessness and advocacy, through a dedication ceremony of a Tempro Emergency Family Shelter home in Joel's name.